Live in socal? Want to be on the show?
Dr. Ebonie is a licensed podiatrist behind the hit TLC television series "My Feet Are Killing Me."  She works with all types of foot and ankle ailments with a specialty in foot and ankle reconstruction and diabetic limb salvage.
Millions of Americans struggle with foot and ankle ailments every year but very few seek relief from a podiatrist. With foot problems comes embarrassment and shame. 50% of women say their feet embarrass them. There are now even thousands of "I hate feet" Facebook pages and groups. That foot shame shows up at the spa. Spa employees nationwide say clients habitually apologize during treatments for their corns, Sahara-dry heels, ingrown toenails and hairy toes.
Dr. Ebonie's goal is to bring awareness to the fact that there is hope and relief available for everyone. No matter what the foot problem – heel pain, plantar fasciitis, deformities, nail fungus, foot odor, ankle sprains, bunions, corns, calluses, hammertoe or ingrown toenails – we have innovative ways to deal with all of these common foot issues.  Don't let embarrassment hold you back from finding a solution that can bring you confidence and happiness. Fix your feet by booking an appointment with me or by visiting your local podiatrist.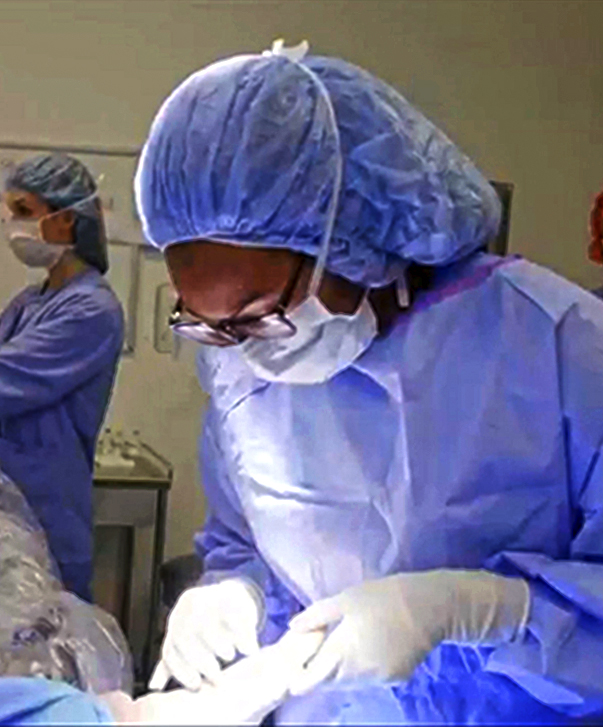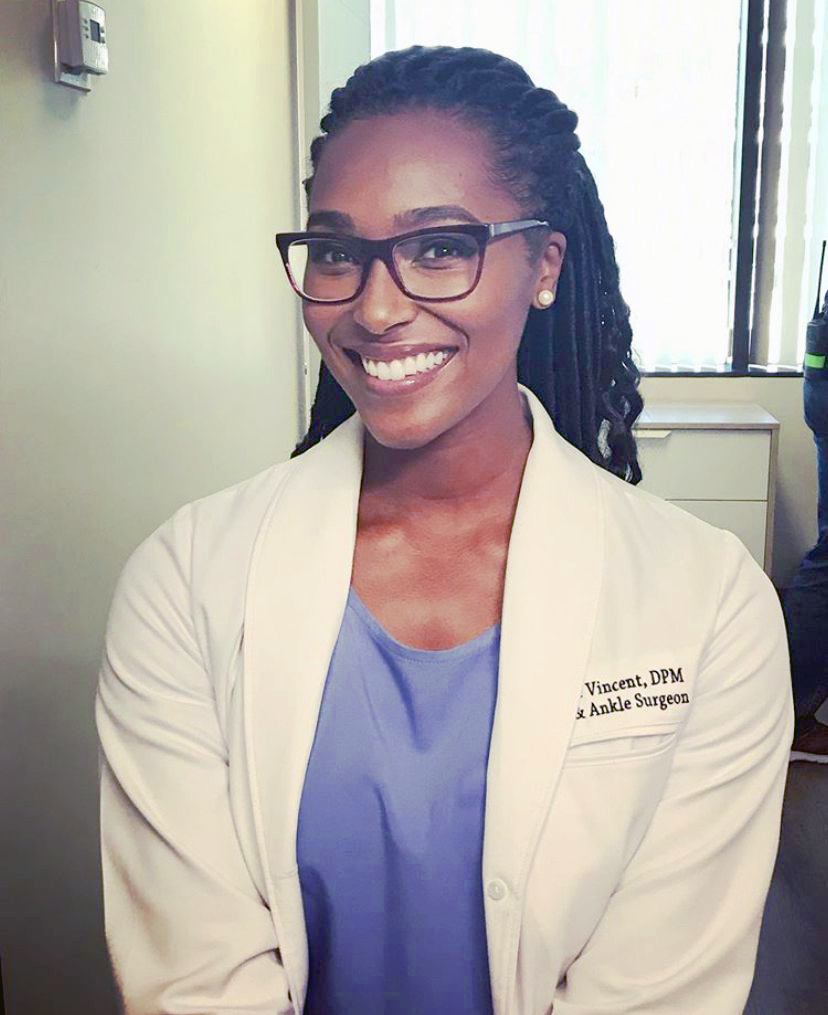 Real Solutions. Real Results.
Board Certified Foot and Ankle Surgeon
Dr. Ebonie Vincent is a Doctor of Podiatric Medicine (DPM), also known as a podiatric physician or surgeon. DPMs are qualified by their education and training diagnosing and treating conditions affecting the foot, ankle and related structures of the leg. You can relax when you bring your foot and ankle ailments to Dr. Ebonie. She is passionate about helping you attain your foot health goals. She is known for her compassion and ability to make her patients feel at ease even in the most extreme cases.
Healthy Lifestyles
Dr. Ebonie considers your feet a marvel of engineering. Together, your two feet contain more than 50 bones, accounting for about one-fourth of all the bones in your body. And somehow they also make room for more than 60 joints and 200 muscles, tendons, and ligaments that hold them together and help them move. Poor foot health can affect your activity level. In turn, how and what you eat and exercise affects your foot health.  She works with her clients to identify ways to get back to living a healthier life.  
Preventative care for everyone
Most people take their feet for granted, until pain or problems such as blisters or calluses develop. But it's important to be kind to your feet and take care of them—before problems arise—and to treat existing problems before they limit your ability to function. If you don't take care of your feet and practice good foot hygiene you will have problems that will affect your quality of life, your work productivity, and your ability to be physically active, which will affect your over all health. It's important to develop a relationship with a local podiatrist and have your feet assessed. Book a consultation with Dr. Ebonie here.  
Because jumping and running take a toll on your feet, proper foot care is especially important for athletes who often suffer from injuries caused by repetitive motion, overuse of the joints, and recurring stress on the bones. Athletes are also more prone to fungal infections. Fortunately, with proper foot care, many of these conditions can be prevented.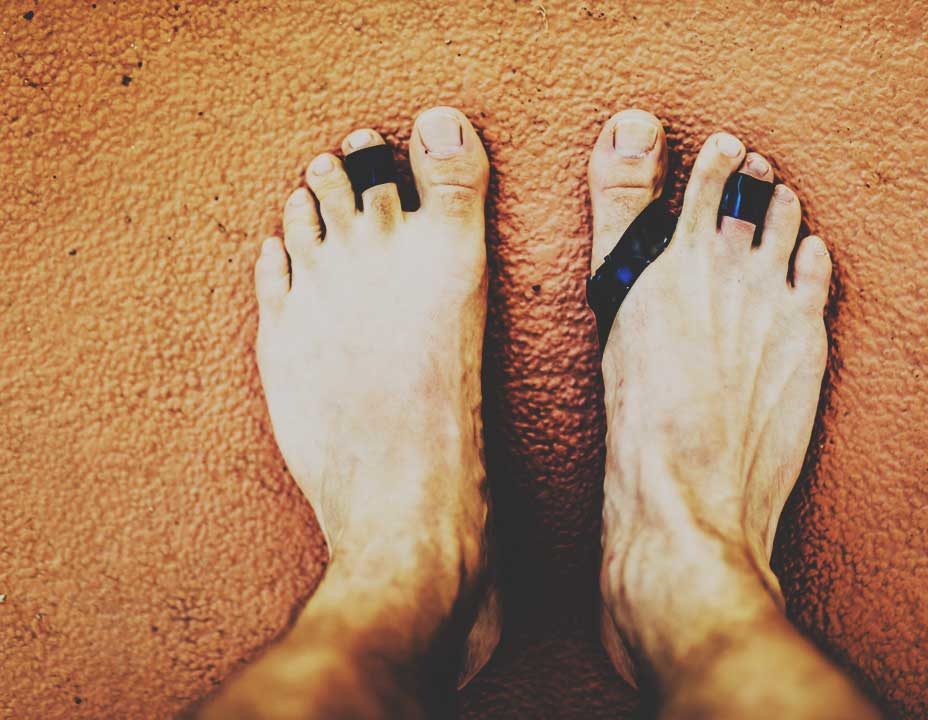 Interested in connecting with Dr. Ebonie? Make sure to follow her on social media, watch her on the new TLC TV Series "My Feet Are Killing Me" or book an appointment to see her for a foot and ankle assessment.
If you are suffering with an extreme foot or ankle condition, the TLC TV show is currently looking to cast people for the upcoming season. Apply to be on the show by emailing the casting director. Include your name and contact information as well as a photo of your current condition.
Fix Your Feet
Don't suffer with foot pain or feet shame. Start off the New Year by booking an appointment with Dr. Ebonie.
Now Casting
Do you live in Southern California and want Dr. Ebonie to treat your foot issue on TV? 
The producers of the show are currently casting for patients interested in having their basic foot conditions treated by Dr. Ebonie on the TV show.
To learn more about what's involved or you are ready! Apply to be on the show today
I saw Dr. Vincent for a toenail with a nasty infection.  It turns out it had to be mostly removed before further procedures could be done.  I'm a complete pain wimp, but Dr. Vincent managed to perform the removal almost painlessly, and was clear in educating me on next steps.  
She is reassuring, instills confidence because of her obvious competence, and overall provided a great experience under the circumstances. I will return to her for any future issues involving my feet.
The office is very clean and stylish, seems like she really took the time to think of little details to make it a calm and beautiful little place. Dr. Vincent is the best podiatrist in Orange, CA herself was great. She was on time, (one of my greatest pet peeves is being kept waiting, I respect doctor's time I only ask they do the same) conducted a thorough consultation, there was no rushing me out of the office, and, she also took the time to review my medical history which is rather important because of the meds I am on, many doctors ask but don't actually pay attention to what's written. I was fairly impressed, she's not only smart, she is also compassionate and hard-working, there were no assistant's on one of my visits and she handled the whole thing with a work ethic that is lacking on many people now a days.
Very pleased with Dr. Ebonie Vincent. My husband's previous podiatrist moved outside our area, so we were referred to Dr. Vincent. We had a 5-10 minute wait. She was welcoming and professional. As a new patient she took the time to ask my husband about his concerns, and thoroughly examined his feet. She explained the next steps in a way that was easy to understand. We both felt very comfortable and look forward to continuing treatment with Dr. Vincent.
I get asked to recommend foot pain relief products for common foot issues from patients and followers all over the world.  I've done the research on products that I recommend to my patients and now you can buy them online.
USE CODE: DREBONIE for 20% 0ff
Foot Therapy Balm
Alive Market Infused Body Butter formula is a natural foot therapy balm and is safe and effective for leg cramps' nerve pain' Gout' Plantar fasciitis' Achilles tendonitis' heel, and ankle pain. Relieves joint pain in the toes and feet
CBD Tincture
Broad Spectrum CBD Tincture - THC FREE
A revolutionary way to help with comfort and calmness that is safe and effective and provides fast acting relief for common issues my patients struggle with. I recommend the 750ml size. Comes unflavored or flavored.
CBD Capsules
Do you have discomfort in many places throughout your body? This easy digestible CBD capsule will help you feel more relaxed and provide comfort throughout your entire body. This is a slow release long acting formula.

 
* Dr. Ebonie receives a small affiliate fee for items purchased through the links provided here.
Join our mailing list to receive updates, access to exclusive behind the scenes content, and more.